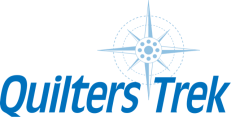 So what exactly is Quilters Trek?
Quilters Trek is a fun way to collect block patterns for a True Blue quilt. The event starts on June 21 and runs through September 8, 2020. Shops are offering a free pattern designed exclusively for their shop as a thank you for visiting. Free patterns are limited to one per person and are available only in stores during the event period. Patterns may be available for purchase after the event ends. Kits are available to purchase online beginning June 21st.
Quilters love collectibles!
Look for a special surprise when you purchase a 2020 Quilters Trek kit. Each area has seven unique tokens to collect and trade. The tokens are available while supplies last. As an added bonus, a few of the kits have Golden Tokens inside! No, this isn't a golden ticket to Willy Wonka's Chocolate Factory but still, it's pretty cool.
Download the free pattern below or come up with your own design.
What about the kids?
Quilters Trek didn't leave out the younger generation. Check out the free pattern below for Junior Trekkers.
Quilters Trek Challenge
Collect designs from at least 8 participating shops and create a quilt using a minimum of 32 9-inch Quilters Trek designs. The first 2 people to bring a completed (quilted, bound, labeled) quilt into a participating store July 15 - October 15, 2020 will receive a prize of 15 fat quarters! There will be a special bonus prize if the shop's design is included.